about us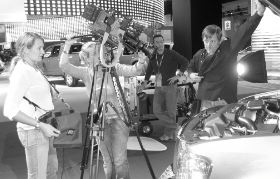 If you are watching TV or on the internet and see video coverage from a car show or big electronics trade show, there's a good chance that High Impact TV is the production company behind it. High Impact Television (HIT), founded in 1995, is among the largest producers of content from the nation's most renowned trade shows and special events including Detroit, New York, Los Angeles, and Chicago Auto Shows; Consumer Electronics Show; Toy Fair; Electronic Entertainment Expo; Wireless; and Intel Developers Forum.

HIT is a trusted news source for broadcast outlets around the country and has produced video seen around the world for major new product launches, including the introduction of DVD, PlayStation, Plasma and LCD TVs, the first smartphone, camera phone, and consumer digital camera; and virtually every significant new car introduction during the last 16 years. HIT's video, sound-bites, news packages, and live shots have appeared on Fox News, CNN, ABC'S Good Morning America, CBS's Morning Show, MSNBC, CNBC, BBC, Telemundo, Univision, and hundreds of affiliates countrywide. To date, more than 1.5 billion television viewers have seen HIT event video. HIT's production studio and editing facilities are located in Aliso Viejo, CA.

Trade Show Production Experts
HIT has a long history providing shows and their exhibitors event and new product coverage. Services include official event satellite media tours, as well as providing onsite support with crews, editing, event video and reporter live shots. HIT has pushed its content onto the Web producing both live and on-demand webcasts. Sony, Hyundai, VW, Nissan, Honda, and Infiniti are among the many clients for whom HIT has produced live webcasts.
About the President

Tore Dietrich
Tore founded High Impact Television in 1995, after spending years at the Orange County News Channel, in Santa Ana, Ca, as well a local production company, where he developed his production skills, as an executive producer, director/producer and writer. Working in a small TV production environment gave Tore several ideas on how to build and expand TV coverage from major trade shows and special events; this was the impetus for starting, what is now one of the nation's major electronic publicity firms, High Impact Television. Tore not only has a hands-on approach to business, but also has been talent for several HIT productions, including hosting 1-hour auto show specials, which have aired on ESPN, Fox Sports and NBCSN. A native of Southern California, Tore graduated from UCLA, with a B.A. in Business-Economics. He has taught skiing professionally in Colorado and Switzerland, and enjoys kitesurfing, golf, mountain biking and coaching kids soccer. Tore is married and is the proud father of four, residing in Aliso Viejo, CA.